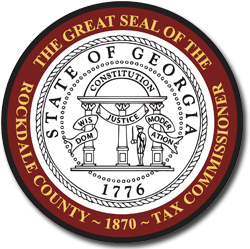 Tisa Smart-Washington
Tax Commissioner
Rockdale County, GA
SPECIAL ANNOUNCEMENTS
*2023 Homestead Tax Relief Grant. Click here for more information
**Title work accepted Monday, Tuesday, Thursday, and Friday until 4 p.m. and Wednesday until 5 p.m. Title work recevied after the cut-off time will be processed the following business day, including dealer purchases, casual sales, and title transfers.
---
**Renew quickly at any Georgia MVD Self Service Kiosk, including at Kroger in Conyers Square. Click here for kiosk locations.
---
**Find an emissions testing center here. Emissions tests are required for 1999 - 2020 model year gasoline-powered cars or light-duty trucks.
---