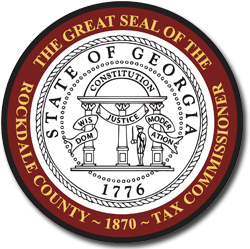 Tisa Smart-Washington
Tax Commissioner
Rockdale County, GA
**In an effort to minimize the spread of the Coronavirus in our community, masks are required, and a maximum of 6 people are allowed, in our lobby.
**Renew quickly at any Georgia MVD Self Service Kiosk, including at Kroger in Conyers Square. Click here for kiosk locations.
**Find an emissions testing center here. Emissions tests are required for 1998 - 2019 model year gasoline-powered cars or light-duty trucks.
COVID-19
Rockdale County
In Rockdale County, Georgia, community transmission is currently Low
Individual and Household Recommended Prevention Behaviours:
Stay up to date with COVID-19 vaccines and boosters
Maintain improved ventilation throughout indoor spaces when possible
Follow CDC recommendations for isolation and quarantine, including getting tested if you are exposed to COVID-19 or have symptoms of COVID-19
If you are immunocompromised or high risk for severe disease

Have a plan for rapid testing if needed (e.g., having home tests or access to testing)
Talk to your healthcare provider about whether you are a candidate for treatments like oral antivirals, PrEP, and monoclonal antibodies